Could it really be so? Is James Forrest  now finally reaching the level everyone suspected he was capable of, but unlikely to ever achieve. One of the leading statistical analyst on Scottish football, Matt Rhein, uses his eyes and his laptop to see how good Forrest's performances this season have been and what is behind this great run of form.
In February of 2016, then-manager of Celtic Ronny Deila told the press,
"We offered [James Forrest] a contract and he has turned it down. He has told us he wishes to see what his other options are."
At the time, most Celtic supporters were not losing much sleep if the Scottish winger's future was with the Hoops or pastures new. Once seen as a future star, most of Forrest's time at Celtic to that point was filled with numerous trips to the physio table and inconsistent play when he was actually on the pitch.
Forrest was heading into the last year of his contract at Celtic when Brendan Rodgers was appointed as the manager. Among the numerous positive changes Rodgers has brought to the club, a notable one is the ability to bring the best out of James Forrest. While it seemed the 2016/17 season would be Forrest's last in the green and white Hoops at the beginning of the campaign, the opportunity to work with a manager like Rodgers clearly changed Forrest's mind quickly, as he signed a new deal in August of 2016 to keep him at Celtic Park until 2019. With that new deal, Forrest has gone from an inconsistent and frequently injured winger to an important cog in the potent Celtic attack.
For much of his Celtic career, Forrest has more been known for his time on the training time more than his time on the pitch. After playing 3,144 minutes in the 2011-2012 campaign, James Forrest did not play over 2,000 minutes in the 2012-13, 2013-14, 2014-15, and 2015-16 campaigns. The winger just could not find the combination of both form and fitness to see him be a major contributor to Celtic. However, last season Forrest played 2,917 minutes, his highest total since that 2011-2012 campaign. This season, Forrest has already nearly surpassed that, playing 2,793 minutes so far.
Being on the pitch more consistently, Forrest has rewarded Celtic with goals and assists. Last season, Forrest contributed 6 goals and 7 assists to Celtic's league campaign. He already has 7 goals this season in SPFL play, and has contributed 2 league assists as well. While his assist numbers are down, something that he is not directly in control of, Forrest has already exceeded his goal total from last season. In his career, the winger has never scored more than 7 goals in one league campaign, so he only needs one more goal to exceed his career high.
Along with traditional statistics, underlying advanced stats have also seen an uptick for James Forrest this season. Expected goals is a stat that is becoming more popular recently and measures the probability of a shot being scored based on how and where it was taken. It has been found to be a better predictor of success than traditional stats such as goals and points for a team. When we compare his expected goals this year and last, we see he has already surpassed his total from last year with an xG of 4.75 this year and 4.02 last. He is contributing more xG per every 90 minutes he plays this season, with an xG per 90 of 0.25 this season and 0.22 last. On average, every shot Forrest takes this season is more likely to go in, as he is averaging 0.13 xG per shot compared to 0.11 last season.
Along with being a larger threat to opponent's goal, we have also seem Forrest's attack creation metrics improve. So far in the 2018 SPFL campaign, Forrest has already completed 42 key passes, or passes that set up a shot for a teammate, compared to 34 last season. The winger is 3rd in the entire league in key passes this season. He has surpassed his expected assist total, which measures the quality of a pass made that leads to a shot, from last season at 4.06 xA this season compared to 4.01 last season. He is averaging a similar xA per 90 minutes this season at 0.21 versus 0.22 last season. While Forrest's assists are occurring at slower pace than last season, the above metrics suggests much of that is down to his teammates missing the chances he set up. These numbers show that Forrest has improved his chance creation this season for Celtic and you would expect him to bag a few more assists if he keeps it up.
Both the numbers and the eye test agree, this season, James Forrest has been in the form of his career. So what exactly has he done this season that has led him to success? It would be safe to say that most would consider Forrest a winger. Many a time at the Cleveland Celtic Supporters Club, luminary Mike McCann can be heard yelling "take it to the corner!" any time Forrest has possession of the ball. Yet much of his success this season has been due to Forrest moving into central areas.
Using the idea of half spaces to divide the field into fifths as described here, James Forrest has scored 3 of his goals and taken most of his attempts in the "middle" space. This is important, as this is the area where shots are more likely to score. The closer and more central a shot is taken, the higher probability it has of going in.
Below, we can see Forrest in a position you would not typically see a right winger, drifting centrally and nearly to the left as Celtic quickly move forward through the Dundee defense. Forrest gets the ball in a dangerous position in the box where he has a higher probability of scoring and he does just that.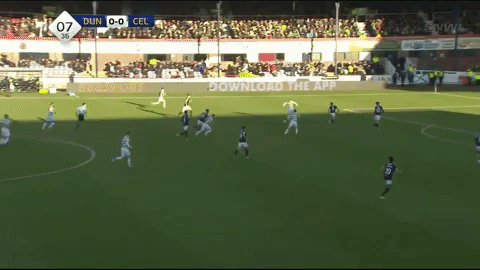 Not only is Forrest more central when he is shooting, but he is also cutting in more often when passing as well. While most of his key passes come from the right wing, as one would expect from a right winger, tied for the second most key passes from Forrest have occurred when he was in the middle space. These type of passes are the ones that lead to a goal most often.
Stats guru Michael Caley has discussed how dangerous passes made in this area are and how they lead to higher-probability shots. Despite his poor taste in football clubs, Rangers Report has written recently discussing how passes in the SPFL that go through the middle (or the "Royal Road" as he puts it) lead to goals more often. With these two articles in mind, you can see why Forrest moving centrally when making passes has led to an improved form and creating for his teammates.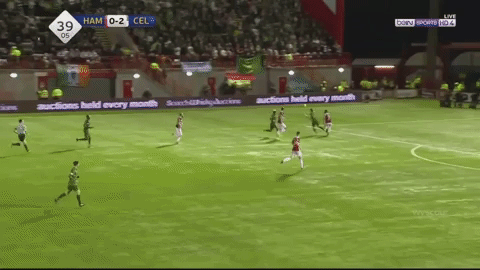 Above we see Forrest against Hamilton, away from your traditional territory that you would expect a typical right winger to inhabit. He receives the ball and moves towards the middle, finding Patrick Roberts in a dangerous shooting position (where Roberts takes probably one too many touches and gets his shot blocked). Below, again against Dundee, we see Forrest back and in the middle starting the quick break forward that again leads to a dangerous shot for Celtic.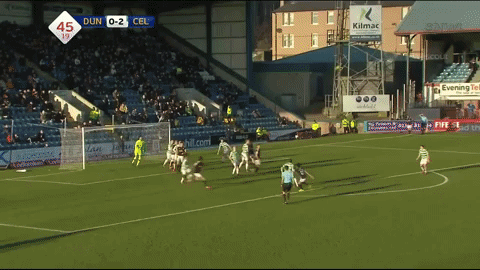 Though it may have taken James Forrest awhile to find both consistent fitness and consistent form, he has found it at the right time. At age 26, he is in the prime of his career and that prime is coming with Celtic. He has seemed to figure out how to be a consistent performer this year with Celtic. While Patrick Roberts and Scott Sinclair may have the better name recognition, it would be easy to argue that it is Forrest who has been the standout wide player for the Hoops this season. Sinclair has taken a step back from last season and Roberts has struggled at staying fit this season. If Celtic can get all three fit and on form, they would have three wingers capable of changing the game.